Next up in my Altenew Educator Certification Program journey, I completed Clean and Simple Boutique Cards. There are six lessons in this block: Simple Styling, Stamped Backgrounds, Foiling/Metallic Details, Faux Letterpress/Embossing, Luxury Papers, and Envelopes/Packaging/Creating Gifts. It's a wide range of techniques. I chose Simple Styling, as I sometimes struggle with this technique.
Creating a Clean and Simple Card Using Simple Styling
Starting this project, I used the Mini Delight: Strength set. I love, love, love the Mini Delight sets. I know I've said it in the past, but it's true! I actually have a Mini Delight monthly subscription through Altenew. Easy and affordable, these sets make the cutest clean and simple cards. What's better than seeing something like this in the mailbox every month? It's way better than bills! I frequently reach for them when I need something immediately. Anyway, let's move on to the card process. I randomly stamped the feather using Altenew's Jet Black Crisp Dye Ink. Next, I colored the tips of the feathers with Arctic Mountain and Emerald. Finally, I placed the sentiment. Everything was stamped directly onto the card itself, so I did not layer anything.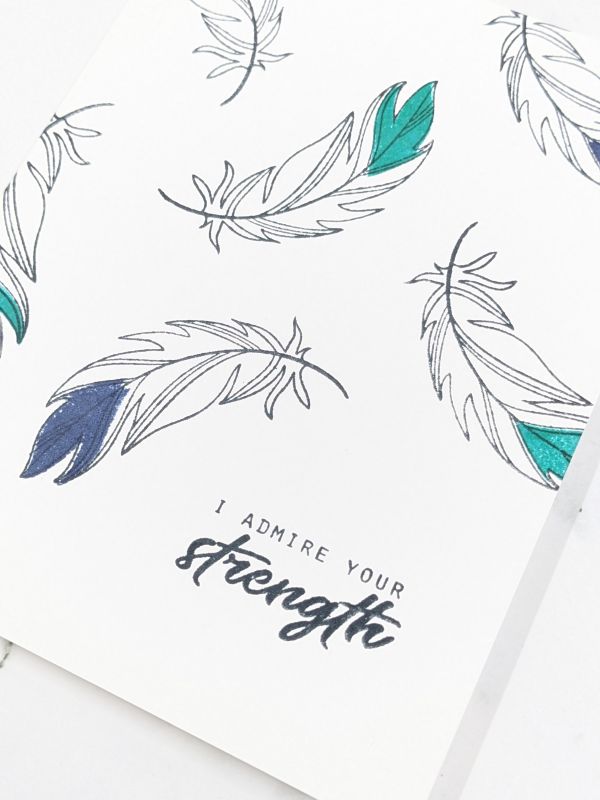 What I Learned
Projects do not have to be extravagant to pack a punch. This card came together quickly and easily, taking less than ten minutes. The card turned out much better than I expected it to. It's perfect for many different occasions and can be used for almost anyone. To jazz it up just a bit, heat emboss the sentiment. For a little more pizzazz, heat emboss the feathers and color in the tips with either watercolor or markers. Or, stamp on a panel, mat with a coordinating color, and layer onto the card. However, I appreciate the simplicity of this project as is. Knowing when to stop is sometimes the biggest challenge an artist or crafter experiences.
See my previous AECP homework assignments: layering 3, layering 4, and stencil.