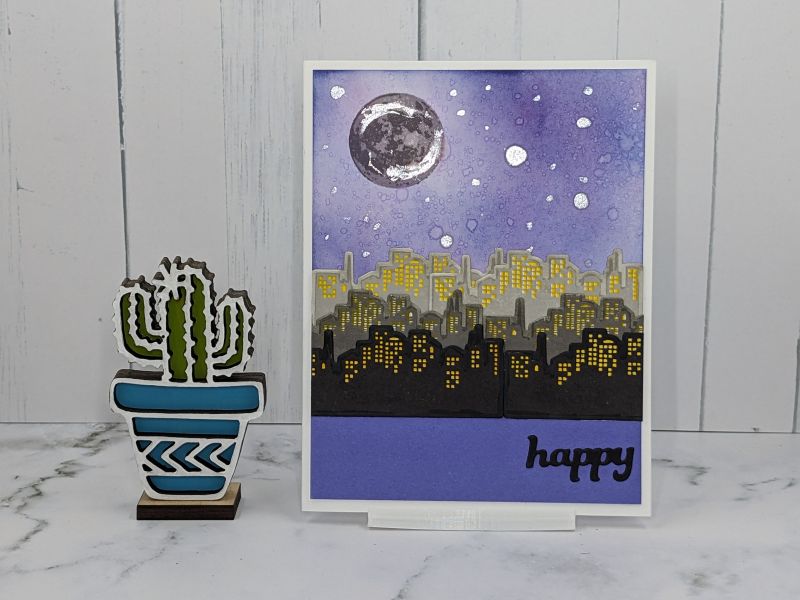 Moving on in my Altenew Educator Certification Program journey, the next session I completed was For the Guys. It's available on the Altenew website under the Classes heading. For many people, it can be difficult to create a card for the men in their lives. I am no exception! The lessons included in this class block are Geometrics, Artistic Techniques, Cards for Boys, Interactive, Pop Art, and Gaming.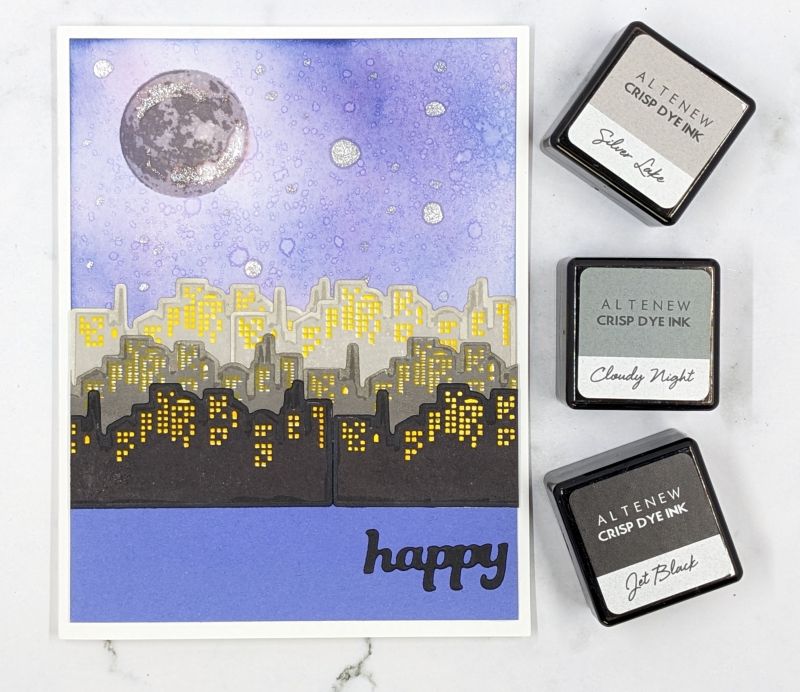 Geometrics For the Guys
To start this project, I chose one of Altenew's Mini Delight stamp and die sets, Pretty City. First, I cut the skyscape multiple times and inked them with Jet Black, Cloudy Night, and Silver Lake Crisp Dye Inks. Next, I stamped the windows with yellow. Then I created the background by blending Distress Inks: Faded Jeans, Chipped Sapphire, Seedless Preserves, and Villainous Potion. Next, I textured the sky with water drops, creating a mottled background. After that, I stamped the moon from the Mini Moon set. Liquid Pixie Dust Ink from Ink on 3 worked perfectly for the stars and the silver reflection on the moon. Finally, I cut out the word "happy" from the Mini Delight: Cupcake die set and adhered it underneath the skyline. The panel was attached to a white cardstock base. I think this is perfect for the guys in my life.
What I Learned
I know from my fine arts classes that when layering things like buildings or mountains, the darkest goes in the front and the lightest goes in the back. It's something that is sometimes hard to remember, but it does not look right if you try to do it the opposite way.
Altenew's Mini Delight stamp and die sets are very reasonably priced and pack a huge punch for the money. They are so versatile that I find lots of different ways to use them. There are quite a few in their catalog that are appropriate for the guys. My collection is growing!
See my previous AECP homework assignments: layering 3, layering 4, and stencil.